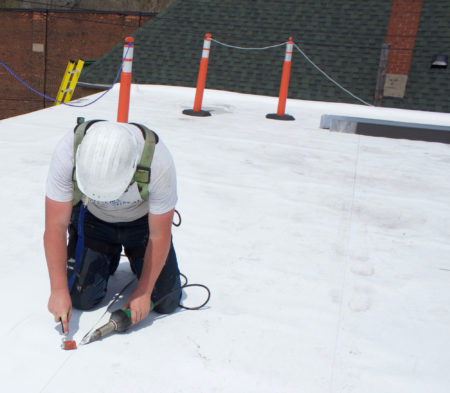 Roofs are like cars, you can buy a new one and not think about it until something goes wrong or you can get it checked regularly to prevent and avoid costly and unforeseen repairs.
Our Preventative Roof Maintenance Plan will ensure that a professional is inspecting and assessing your roof on an annual basis and keeping you up to date on any growing concerns.
The Program:
Annual roof inspection checking seals, drainage and edging.
Having annual roof inspections is one of the best ways to extend the life of your roof because we are able to catch problems before they become catastrophic. Seals, drainage and edging are all areas prone to failure, so having them checked regularly helps to detect problems before they start.
We check every seal on the building to make sure that there has been no roof degradation or damage due to water or ice. Anywhere that shows weakening, even if there is no leak, is patched to prevent further damage.
Checking drainage involves making sure there is no standing water on the roof, that the existing drains are sufficient and functioning properly and that the building has not settled, creating new low spots which hold water.
Edging is important because anywhere two materials join (roofing membrane and walls, pipes or sloped roof transitions) is a prime place for failure. We make sure that membranes are properly fastened and counter-flashing is properly caulked with industrial-grade sealants.
Removal of debris and waste build-up, clearing of drains.

Debris and other waste can be brought to your roof by wind, nearby trees or nesting birds and other animals. Once there, debris can clog drains and cause standing water on your roof.
Standing water is a problem because it increases leaks, causes mould and can eventually cause sagging in the roof which aggravates the problem. By clearing drains and removing debris and other waste we
ensure that the roof you have is working properly.
Minor caulking and Sealant replacement.
While the caulking and sealant used on roofs are industrial-grade, they still tend to degrade faster than the roofing membrane used on the rest of the roof.
Harsh weather conditions combined with the damaging effects of ultraviolet rays from the sun work to degrade these materials making it important for them to be checked regularly and replaced as necessary by a
flat roofing expert
.
Minor membrane repair.
Falling tree limbs, people walking or nicks and dings from equipment used by other contractors can all result in damage to roofing membranes.
It is important to have an expert check your membrane regularly because these damaged areas, if left unrepaired, can lead to costly repairs inside the building.
Written report as to the condition of the roof and any additional recommendations.
Every roof inspection comes with an electronic report detailing exactly what was inspected, the status of the roof including any areas that should remain under supervision, repairs completed during the inspection and any suggestions for immediate maintenance.
Photos of roof and/or problem area(s).
Photos of your roof and any problem area(s) are included so that we can explain and show you exactly what we found.
If you would like to take a walk around the roof with our inspector he can point out and explain his findings, or if you would rather he take you through using photos and video he can do that too. Photos and video are included even if you opt to do an in-person walk through.
If you want to extend the life of your roof while having peace of mind that you won't be confronted by foreseeable emergencies, this is the plan for you.
24/7 Emergency Service.
Everyone who owns a roof knows that roofs leak at any time, day or night. We make sure to be available whenever you need us.
No additional Costs.
When you purchase the Preventative Roof Maintenance package you purchase peace of mind. As one of our preferred clients you will never be charged extra for overtime or weekend emergency service calls.
We treat your roof as our own, doing what needs to be done, when it needs to be done.